Faded Echoes is an AU TVD-verse that kicks off after Mid Season 3 with a whole new twist. In the small town of Mystic Falls, go beyond what TVD offers and submerge into Original Plots or Character Driven Plots. FE has more than just the normal Witches, Vampires and Werewolves, but gives you the opportunity to create Shifters or Hybrids as well.
We stray after the Homecoming episode in Season 3 of Vampire Diaries and provide players a place to take the story how THEY want to, using the TVD setting as the foundation to develop as YOU like, encouraging Original Characters OR Canons. Don't know the show? No problem. You just need the setting!
The Original Families, Vampire and Werewolves, are back in town after the Mikaelson family was released by Tatia Petrova, giving us a whole new set up then the show.
We are an intermediate para RP with mandatory application. Jcink Premium. Proper Registration is with your characters First Last name in proper case. Example as follows: Elena Gilbert, Benjamin Franklin, John/Smith.


Account Per Character site. 400 Word Count.
Opalescent Incandescence
, Opal's Ship of Dreams
19POSTS
Sparrow
Opal is Offline
Name: Andrew Kavanagh
Age: 27
Species: Warlock
Profession: Philanthropist

Friends

To be friends with Andrew is to be friends with the purest form of what the French call joie de vivre. His cheerful but cheeky manner disarms most and prevents people from taking him seriously, as after meeting him, Andrew is perceived as nothing more than sarcastic, flippant and "innocent." In reality, he takes things very seriously about his friends and other people he cares about. No matter what your species, Andrew will become your friend and be like the second mother you wish you had....until he starts to make you regret getting him to start talking. Of course, if he worms his way into your heart, you'll find someone who will drop everything and do his best to keep you safe.

Enemies

You know that phrase "Hell hath no fury like a woman scorned?" Well, that's nothing compared to a pissed off gay warlock. You do not know misery until you've pissed off Andrew, and that is something that is extremely hard to do. Granted, he's already had a bad experience with a vampire who he dated, but that doesn't mean he hates vampires. Even as a warlock, Andrew realizes that no matter what, a person is not their species, and they cannot be blamed for it. So rest assured that if he considers you an enemy, it's for a damn good reason.

Lovers

Love has been a difficult subject for him, ever since dating a vampire named Lorcan DeFaye, and quite frankly it left Andrew feeling as if he was unlovable. However, that doesn't stop Andrew from wishing that someone, anyone, would notice him and see past the constant barbs and cutting remarks in his sarcasm. He wants someone to actually see that he's lonely, and that Andrew would give anything to feel loved. Generally, Andrew has a weakness for "hunks" and "gorgeous" men.....but looks aren't everything to him; but hey, who doesn't love a pretty face? As far as whether or not they are of a different species than him, Andrew isn't picky. Human, warlock, or whatever, just be a decent individual who honestly cares for him. Bad boys to the front of the line, please.....you know who you are.

Andrew Kavanagh

Name: Name
Age: Age
Species: Species
Profession: Profession

Friends

This is a paragraph of text. You can put as much as you want here. This will scroll to fit whatever you put! Don't be shy!

Enemies

This is a paragraph of text. You can put as much as you want here. This will scroll to fit whatever you put! Don't be shy!

Lovers

This is a paragraph of text. You can put as much as you want here. This will scroll to fit whatever you put! Don't be shy!

Name Goes Here
296POSTS
Cian
Rae is Offline
Miro & Andrew
Miro isn't a native to the area, in fact, although he's owned a home in Mystic Falls for a few years, he's barely lived in it because this Poison Dart Frog shifter is a professional model. He spends a lot of time traveling, going to some photoshoot in LA or some other modeling gig across the ocean. He's gorgeous and Miro knows this, he's manipulative enough to use it those dips in his abs to his advantage. He's got a fraternal twin hanging around that he doesn't get along with too much and because of his history of attachments, Miro isn't quick to get attached to people. He's resourceful and dynamic enough to survive on his own, but he does enjoy meeting new people and seeing just how far he can push different limits. His passion makes him unyielding in some circumstances. Miro appreciates raw honesty, even if he can be ribbed wrong from it. He can go through extreme mood swings, but once you earn his trust, he's a fiercely loyal friend to have in your corner.

Andy is good looking and Miro is a flirt, even if he is in a committed relationship. He'd strike up a conversation with Andrew. Prior to December, he wasn't in a relationship and has traveled quite a bit because of the modeling gig, so maybe these guys have met in passing before somewhere? Miro hasn't met many magic users who are actually MALE, so that bit would be intriguing to him. 'what do I call you? Witch seems inappropriate' you know,if he ever found out about that anyways, cause magic users blend in much easier. Miro could use more friends in town, we could put them in a thread together where one of them is having a bad day? Like they've got a flat tire or a ticket on their car, or a random summer thunderstorm traps them in an empty/dead store together.
Cian & Andrew
He's a 640 year old vampire who has been around the block and has an extensive history. Irish, he and his maker had an interesting love/hate relationship. She drank animal blood and wanted him to as well, but it didn't fly so he left in his early life and found Katerina Petrova. She was a new vamp, running from Klaus at the time and Cian helped to hide her. They were together for a hundred years, though nothing romantic developed. They went their separate ways, Cian ran into his maker again, forced human blood down her throat and she became a ripper. Then Cian killed his maker and was imprisoned in a cave for 75 years by a witch where he desiccated. He came back because of a shifter giving him blood in 1986 and has been around USA since. He's good at forging certificates, legal documents, getting new identities for people, which is especially useful when you're a vampire living in the modern world and need documents saying you were born 20 some years ago and a trail to prove it. He has been working as a bartender at the Blackband for over a year now, so he could certainly be found there or causing mayhem elsewhere.

The Irish vampire I mentioned earlier. He's a bartender at the Blackband, so its easy to find him. he'd be interested in Andrew just because of his accent lol and if Andrew ever wanted a job in the States, he'd need a Visa for that. cian is the guy to see for documentation things. cian might honestly just want to kick back and have a few drinks with him because of the irish thing, so I can see them being buds.
I love to plot and thread and awesomeness! I like doing mean things to my characters and if you ever need someone to spice up your characters life or provide entertainment or torture, I've got plenty of bullies to do it! Check out my characters in my tracker or their applications if you want more info!
---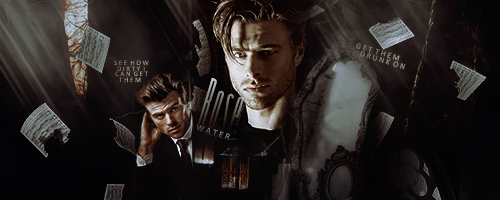 19POSTS
Sparrow
Opal is Offline
Andrew & Miro "You can call me Sheila; I like long walks on the beach and fresh flowers." Pretty much exactly what Miro would be told as soon as he asked what exactly to call Andrew. And as for them stuck in an empty store during a storm, or something like that, that would definitely be fun.
Cian & Andrew Everyone could use a drinking buddy, just so long as the beverage of choice isn't AB+ (Andy's blood type). And these two would be really interesting together; as for needing papers, Andrew would probably need a few things here and there. Deals are to be made, I think....
10POSTS
Jo
Ashley is Offline
26POSTS
Lee
Autumn is Offline
---
Galilee & Andrew
Lee and Andrew could be a very interesting meet up. Since Lee has a bad boy side, and so does Andrew, I could see the two of them getting into some trouble. Lee is pretty easy going, but he is very manipulative as your Andrew is likeable. He is too a warlock, so that could be a point of interest between the two at some point. As well, as Lee is leaning towards being bi, only he doesn't know it yet. I have a plot in the works where he will eventually realize he is more gay than he is straight. So... we might could plot some sort of something out there as well if you like. I like the idea of the two of them meeting though. Maybe Andrew could help Lee learn how to be a little less of a jackass all the time. He has a good heart... he just doesn't know how to access it quite yet, if you know what I mean. I could definitely see him being very avid to figuring out how to be a little more "human" in his actions, and a little less "asshole". If for no other reason then to try to impress Eevie. Why is he trying to impress Eevie? I'm not real sure, but it appears that is in his plans somewhere. lol.
@Andrew Kavanagh
---
19POSTS
Sparrow
Opal is Offline
@Galilee Blythe Andrew & Galilee
Yes to everything. Absolutely, especially given Andrew's tendency to flirt with anything male and has a pulse. So yeah.
@Olivia Kennedy Andrew & Olivia
Sounds like a blast to me. Plus, Andrew having someone to help explore their magical talents would be an interesting.
10POSTS
Jo
Ashley is Offline
Olivia and Andrew
Awesome! I can throw a thread up once I am caught up on my others? Does it matter where?
@Andrew Kavanagh
1 User(s) are reading this topic (1 Guests and 0 Anonymous Users)
0 Members: